We protect the foundation of life on Earth – wilderness.
For life, livelihoods, and love
View WILD11 Outcomes
MARCH 19-26, 2020
WILD11 is the globally-focused, Indian-led biodiversity answer to the dual existential emergencies of extinction and climate breakdown. Humanity needs wild nature to survive and thrive. Hundreds of millions of people around the world and within India can drastically benefit from greener cities and more abundant nature. WILD11 is mobilizing leaders and solutions from around the world and all sectors of society to protect and expand our best ally in the fight to halt climate change: wilderness and the nature-based solutions it provides. WILD11 PROGRAM NOW AVAILABLE!
The WILD11 program is live and packed with speakers and events that will help propel wild nature to the top of the international agenda in a historic year for the protection of Earth's biosphere. Check it out!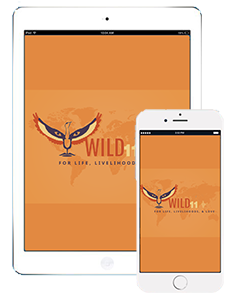 DOWNLOAD THE WILD11 MOBILE APP
Download the WILD11 app before you head to Jaipur so you can access all congress-related information such as the program, nearby dining & activities, special events, a list of all delegates, speakers, and sponsors, and ways to connect with one another!
WORKING TOGETHER CHANGES THE WORLD