USING THE WILD11 MOBILE APP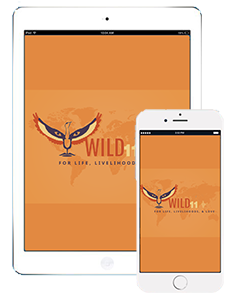 ABOUT THE MOBILE APP
WILD11 organizers are committed to limiting the amount of paper and excess materials used at this congress, therefore our full program will only be available through our mobile app and website. The app, developed by CrowdCompass, allows delegates to access all congress-related information such as the program, nearby dining & activities, special events, a list of all delegates, speakers, and sponsors, and ways to connect with one another. Download today in the App Store, or get it on Google Play!
Please note that while you can view the program and majority of the app content in offline mode, certain aspects do require an internet connection, such as push notifications, updates to the program, and web URLs.
Allowing push notifications: Once you open the app, you will see a popup message which states WILD11 would like to send you notifications. Please select "Allow" or "Ok" so we can update you on any important alerts or changes to the program. Don't worry, we'll keep the notifications to a minimum!
---
SET UP YOUR ACCOUNT
Once you download the app to your phone or tablet and create your account:
Add a photo and personal details to your delegate profile page. You can access this by clicking the three horizontal lines in the top left corner of your app screen, and then clicking on your name. (Please note: if you are a speaker at WILD11, you will also need to create a speaker profile in addition to your delegate profile. More info coming soon.)
Set your profile to "Visible" if you want other delegates to see your page and have the ability to network. By default, your profile will be set to "Hidden."
---
SEARCHING FOR CONTENT
Delegates can peruse sessions by day, filter by congress track names, session tags, and search for specific keywords. Searching for sessions, speakers, or other content can be carried out these ways:
Search the Program: click the "Search the Program" icon on the left side of the page to search the entire program for content like speaker names, session titles, organizations, events, and more. This is the easiest way to search for content!
Search for content by day: click the "Program" icon, type in your desired search term, and navigate to the day of your choice to find the session or speaker you are looking for. Please note that searching for content via the "Program" icon requires you to search by individual day, not by the entire program.
Search by speaker name: click the "Speaker" icon, and type in the name of the speaker you are looking for.
---
ARE YOU UNABLE TO DOWNLOAD THE APP?
If you don't own a smartphone, have a smartphone that is incompatible with the app, or are unable to download the app for another reason, please use the web version of the app by viewing this link on your computer, smartphone, or tablet. Keeping in mind that the CrowdCompass platform largely focuses on the mobile app, we've developed some tips & tricks for navigating the web version.
Delegates can take the same steps as listed above to create a delegate profile through the web version of the app.
We highly recommend that delegates keep this web version of the app open in their browser at all times. Attendees will stay logged in to the web version until they completely close out the browser. CrowdCompass unfortunately does not allow for login credentials like a username and password, so any time you close completely out of your browser that has the web app in it, you will be logged out. To log back in, you will need to re-enter your first name, last name, email, followed by a verification code that will be emailed to you. 
Or, don't log in at all! If you find yourself bouncing around between multiple devices and don't want to deal with entering in a verification code frequently, we recommend

not

logging into your account. You can view the program and other content without logging in. However, if you would like to view the list of WILD11 delegates and network with others, you will need to be logged in.
---
QUESTIONS?
For other questions about the app or the web version of the app, please navigate to the "FAQ's" icon on the home screen of the app, or left sidebar of the web version. If you can't find an answer there, you may contact us below.